ΣΩΣΤΙΚΑ ΜΕΣΑ - ΑΝΑΨΥΧΗΣ
Αυτόματα φουσκωτά σωσίβια // Recreational Life-jackets
Secumar Ulrta AX 150
Μanufacturer: Secumar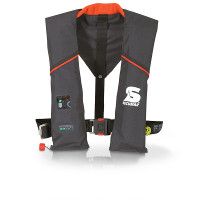 Product description: Ultra AX 150
One of the flattest and most comfortable lifejackets around. Designed around the RNLI Useless Unless Worn campaign, this 150N extra flat, smart design is easy to wear with its 'proper' click front buckle and comes fully equipped with bayonet fixing gas bottle, inspection window, neck fleece and crotch strap as standard. A great value product.
Approvals
CE Type approval and model tested as Personal Protective Equipment(PPE).
Conforms to EN ISO standards.
Assessed and approved by an authorised test house.
Features
| | |
| --- | --- |
| Part Number | 15498 |
| Buoyancy Class (CE) | 150 N |
| Type of buoyancy/ Method of Inflator | Inflatable / Automatic inflator 4001S |
| Buoyancy/ CO2-cartridge size | 165 N / 32 g CO2 Dock |
| Body weight | from 50 kg |
| Buoyancy chamber system | Signal yellow bladder, 3M® retoreflective strips |
| Standard equipment | Dedicated light attachment point, tough outer cover, neck fleece, click front buckle, lifting strop, whistle, crutch strap, inspection window, 4001S firing mechanism, manual override, storage bag. |
| Colour | anthracite/orange |
| Harness | No |
| Closure | Click front buckle |
| Emergency light | Optional |
| Particularly suitable for / Operational area | Yachting and cruising, Motor boat |
Specifications
Photo Gallery
Επιστροφή στην κατηγορία