ΣΩΣΤΙΚΑ ΜΕΣΑ - ΑΝΑΨΥΧΗΣ
Αυτόματα φουσκωτά σωσίβια // Recreational Life-jackets
Secumar Secufit
Μanufacturer: Secumar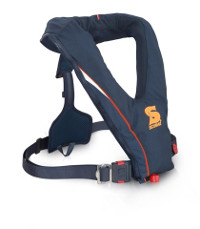 Code: Secufit
Freedom of movement is the alpha and omega for canoeists, rowers and paddlers, because in order to create movement, their upper body is constantly in motion.
The requirement for an adequate lifejacket has been perfectly met by SECUMAR with its new SECUFIT lifejacket that is simply pulled over the head and is cut short to sit directly on the chest so it cannot interfere with any body movements. This also makes it the right choice for anglers with plenty of room for casting and also won't get in the way when playing and landing a fish.
Motor boaters will also be impressed by its high wearer comfort.
The outer cover has an ergonomic preformed shape so it barely touches the neck. Overall, it's so well padded with softshell material that it can be worn very comfortably and the back strap can be easily adjusted to the individual body size. The outer cover zip has a predetermined breaking point, so it bursts extremely quickly once the firing mechanism comes in contact with water.
The SECUFIT belongs to 150N buoyancy class, even though its special Winglet floats buoyancy chamber help it exceed this standard providing increased freeboard and greater stability.
Clever detail: The protective cover of the SECUFIT is equipped with reflective strips for better visibility in low light conditions, offering yet another safety advantage.
Approved to
CE Type approval and model tested as Personal Protective Equipment(PPE).
Conforms to EN ISO standards.
Assessed and approved by an authorised test house.
Features
| | |
| --- | --- |
| Part Number | 15732 |
| Buoyancy Class (CE) | 150 N |
| Type of buoyancy/ Method of Inflator | Inflatable / Automatic 3001S |
| Buoyancy/ CO2-cartridge size | 160 N / 32 g |
| Body weight | from 50 kg |
| Buoyancy chamber system | WINGLET buoyancy chamber bright orange, 3M® retro-reflective strips, dedicated light attachment point. |
| Standard equipment | click buckle, lifting becket, whistle, loops for crutch strap, manual override 3001S, lifejacket storage bag. |
| Colour | Blue/orange |
| Harness | No |
| Closure | side buckle |
| Emergency light | Optional |
| Particularly suitable for / Operational area | Rowing, Paddlers |
Â
Specifications
Â
Photo Gallery
Επιστροφή στην κατηγορία