ΣΩΣΤΙΚΑ ΜΕΣΑ
Inherent Life-jackets // Πλευστικά βοηθήματα
Secumar Secu 17
Μanufacturer: Secumar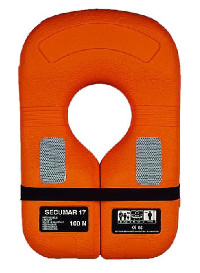 Code: SECU 17
Indispesable as a reserve lifejacket and a throwin weight for the rescue line giving accuracy of aim.

Recommended extras: Mounting strap or stainless steel bracket, drogue, buoyant rescue line, rescue light or complete in a MOB pack.
Approved
CE Type approval and model tested as Personal Protective Equipment(PPE).
Conforms to EN ISO standards.
Assessed and approved by an authorised test house.
Features
Part No.

417 / Drogue SECU 17, incl. snap hook

415 / Mounting Strap for SECU 17

416 / Rescue Line 30 m, buoyant, incl. snap hook

410 / SECU 17, inherent buoyancy lifebuoy

Buoyancy Class (CE)
100 N

Type of buoyancy / Method of Inflator

Inherent buoyancy
Size/ body weight Buoyancy
145 N
Body weight
from 45 kg
Buoyancy chamber system
One-piece, made of PE foam
Standard equipment
SECU 17 with 3M® retro-reflective strips and tie straps running through the buoyancy chamber, built-in throwing weights, whistle
Colour
Bright orange
Harness
No
Particularly suitable for / Operational area
MOB

Photo Gallery
Επιστροφή στην κατηγορία