ΣΩΣΤΙΚΑ ΜΕΣΑ - ΑΝΑΨΥΧΗΣ
Αυτόματα φουσκωτά σωσίβια // Recreational Life-jackets
Secumar Scout 275 3D
Μanufacturer: Secumar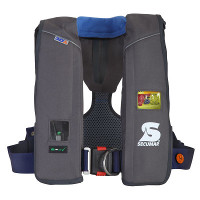 Code: Scout 275 3D
Advantages of the 3D system
Better protection with loss of consciousness
Ideal for wearers of heavy protective clothing
Neutralizes imbalance caused by trapped air in clothing or footwear
Higher positioning of emergency light
Higher positioning of the integral MOB locator beacon antenna
Description
The new SECUMAR SCOUT is much more than a new lifejacket. It is the central element in a complete life saving system that offers the possibility of greatly enhanced recovery of a man overboard.

For this, the new SCOUT can incorporates a PLB as an option.

The lifejacket lies snug to the body and is comfortable to wear. The SCOUT 3D swim bladder has a third dimension in the form of two large triangular air cushions to provide a much stronger turning moment to roll you onto your back and to overcome the air pockets and heavy weight of foul weather clothing or dry suits.
An added benefit of these air cushions on the SCOUT 3D is that they can carry a PLB much higher out of the water, thereby greatly enhancing the signal reliability.
Approvals
International Standard DIN EN ISO 12402-2 (CE-marking), European Standard EN 1095
DIN EN ISO 12401 (integral harness)
Â
Features
| | |
| --- | --- |
| Part Number | 14676 |
| Buoyancy Class (CE) | 275 N |
| Type of buoyancy/ Method of Inflator | Inflatable / Automatic inflator 4001S |
| Buoyancy/ CO2-cartridge size | 290 N / 60 g CO2 Dock |
| Body weight | from 50 kg |
| Buoyancy chamber system | 3D bright orange swim bladder, 3M® retro-reflective strips |
| Standard equipment | Removable washable neck fleece, click front buckle, lifting becket, whistle, 2K Click 30 crutch strap, inspection window, emergency radio beacon holder, front access zip to PLB pocket, sprayhood, 4001S firing system, SECULUX CFXII emergency light and front pocket. Lifejacket storage bag with zip fastener. |
| Colour | Grey |
| Harness | Yes |
| Closure | Click front buckle |
| Emergency light | Yes, SECULUX CFXII emergency light included. |
| Particularly suitable for / Operational area | Yachting and cruising, Offshore sailing |
Â
Specifications
Instructions Secumar Scout 275 3D
Â
Photo Gallery
Επιστροφή στην κατηγορία