ΣΩΣΤΙΚΑ ΜΕΣΑ
Παιδικά και βρεφικά σωσίβια // Children and baby life-jackets
Secumar Junior
Μanufacturer: Secumar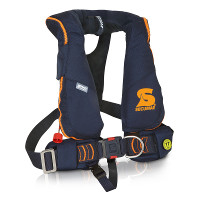 Code: Junior
Outstanding wearer comfort thanks to ergonomic preformed shoulders.
New "Winglet" buoyancy bladder for higher freeboard and stability in the water.
DUO-PROTECT twin skin buoyancy bladder for double protection against mechanical damage.
Integratal safety harness.
Smaller in its cut but not as far as safety goes - proven Duo Protect technology is used in the buoyancy chamber of this lifejacket designed for older children.

The new DUO Protect SURVIVAL range combines the very best in safety equipment with a brillant and obvious addition. The DUO Protect system has long been a must for kids who like to lie face down in their SURVIVAL on the jetty when using their dip nets. Or, in the heat of the moment when things can become hectic on board, or the conditions become violent, it can happen that a member of the crew snags their jacket or is thrown against a sharp edge. Even if both layers of film become damaged, the buoyancy chamber in the SURVIVAL seals itself to a large extent automatically when it is inflated.
Approved
CE Type approval and model tested as Personal Protective Equipment(PPE).
Conforms to EN ISO standards.
Assessed and approved by an authorised test house.
Features
| | |
| --- | --- |
| Part No. | 15471 |
| Buoyancy Class (CE) | 150 N |
| Type of buoyancy / Method of Inflator | Inflatable / Automatic Inflator 3001S |
| Buoyancy / CO2-cartridge size | 110 N / 22 g |
| Body weight | 20-50 kg |
| Buoyancy chamber system | New SECUMAR Winglet buoyancy chamber, SECUMAR Duo Protect, dual walled system, retro-reflective strips, dedicated light attachment point, in protective cover. |
| Standard equipment | Neck Micro-Fleece, click buckle, lifting becket, whistle, crutch strap, lifejacket storage bag |
| Colour | blue/orange |
| Harness | Yes |
| Closure | click buckle |
| Emergency light | Optional |
| Particularly suitable for / Operational area | Yachting and cruising, Motor boat |
Â
Specifications
SECUMAR Children's Lifejackets
Photo Gallery
Επιστροφή στην κατηγορία