ΣΩΣΤΙΚΑ ΜΕΣΑ
Πλευστικά βοηθήματα για θαλάσια σπορ // Inherent Bouyancy Aids
Secumar Echo
Μanufacturer: Secumar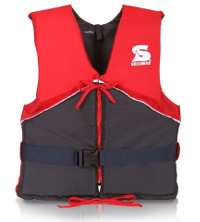 Code: Echo
This entry level buoyancy aid is comfortable to wear. It gives the wearer support when swimming close to shore or in shallow waters.

Whether for hunters or dinghy sailors, anglers, surfers, kayakers or canoeists - our Echo buoyancy aid is suitable for all these water sports enthusiasts. This foam jacket support its wearer whilst swimming and should its only be used in waters close to shore. The Echo has the more usual type of zip and buckle fastening.
Fixed Foam - The buoyancy is built in - and ready at all times!
Fixed foam lifejackets and buoyancy aids have one great advantage – the buoyancy is always there.

No accidental inflation and no replacement of gas bottles. Foam lifejackets are ideal for those that might quite readily get very wet, such as dinghy sailors, kiteboarders or windsurfers. SECUMAR fixed foam products feature a comfortable fit, warm body protecting materials and a few very special features.

Please always keep in mind:
Foam lifejackets and buoyancy aids can never reach the same buoyancy and rotation force as inflatable lifejackets so cannot be regarded as a substitute. The simple formula is: more clothing - more Newtons! This means, the heavier the clothing the greater size of lifejacket required.
Approved
CE Type approval and model tested as Personal Protective Equipment(PPE).
Conforms to EN ISO standards.
Assessed and approved by an authorised test house.
DIN EN 395.
Features
Part No.

11666 / Echo 30-40kg

11667 / Echo 40-70kg

11668 / Echo 70-90kg

11669 / Echo 90-120kg

Buoyancy Class (CE)
50 N

Type of buoyancy / Method of Inflator

Inherent buoyancy/SECU-Foam soft foam, multilayered
Size/ body weight Buoyancy
30-40 kg 35 N
40-70 kg 45 N
70-90 kg 50 N
90-120 kg 50N
Buoyancy chamber system
Buoyancy aid
Standard equipment
Front zip with additional ribbon ties, adjustable belt with plastic click buckle
Colour
Blue/Red
Harness
No
Particularly suitable for / Operational area
Motor boat, Rowing, Regattas , Paddlers
Â
Specifications
Manual for inherent buoyancy aids 50N
Photo Gallery
Επιστροφή στην κατηγορία