ΣΩΣΤΙΚΑ ΜΕΣΑ - ΑΝΑΨΥΧΗΣ
Αυτόματα φουσκωτά σωσίβια // Recreational Life-jackets
Secumar Arkona Midi
Μanufacturer: Secumar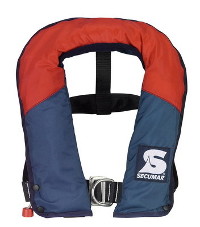 Code: Arkona Midi
150N inflatable lifejacket for children (20 - 50 kg) approved to DIN EN ISO 12402-3. Top quality starter model.

A broad spectrum of performance combined with a sporty design. The long cut means the harness sits comfortably on the lower part of the torso.
Approvals
CE Type approval and model tested as Personal Protective Equipment(PPE).
Conforms to EN ISO standards.
Assessed and approved by an authorised test house.
Features
| | |
| --- | --- |
| Part Number | 13542 |
| Buoyancy Class (CE) | 150 N |
| Type of buoyancy/ Method of Inflator | Inflatable / Automatic inflator 3001S |
| Buoyancy/ CO2-cartridge size | 110 N / 22 g |
| Body weight | 20 kg - 50 kg |
| Buoyancy chamber system | Buoyancy chamber bright orange, retro-reflective strips, in protective cover with neck fleece, lifting becket, whistle, loops for crotch strap, lifejacket storage bag |
| Standard equipment | Neck fleece, lifting becket, whistle, crutch strap, lifejacket storage bag |
| Colour | Red/Blue |
| Harness | Yes |
| Closure | Frontal metal buckle |
| Emergency light | Optional. |
| Particularly suitable for / Operational area | Yachting and cruising, Motor boat |
Specifications
Secumar Manual for Arkona Midi
Photo Gallery
Επιστροφή στην κατηγορία