Ρυθμιστές πλευστότητας
Divator Harness
Μanufacturer: Interspiro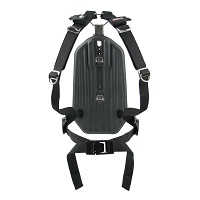 FEATURES
The Divator BC's or harnesses all have quick connection for attaching the cylinders and also holders for the regulator unit, allow the diver to put the equipment on rapidly and easy.
Ergonomic design for best weight distribution of the cylinder pack
The ribbed back plate keeps the diving apparatus in a fixed position close to the diver
Super elastic material in the back plate makes it virtually unbreakable, even in low temperatures
High safety even without back plate with the integrated stainless steel frame
Lockable and adjustable belt buckles with quick release function
OVERVIEW
The DIVATOR HARNESS is ergonomically designed and takes the weight load from the cylinder pack off the shoulders and instead spreads the weight evenly out on the divers back. The belt coupling has a quick release function and is self centering
which makes the belt coupling easy to find.
The ribs on the back plate keep the diving apparatus close to the diver. This stable design facilitates any type of diving.
It is easy and quick to mount and dismount the cylinder pack to the harness. It requires no tools.
ACCESSORIES
PRODUCT VERSIONS
336190839 Single Cylinder Mounting kit 140-183 mm
336190837 Single Cylinder Mounting kit 314, 316 diam. 100-140 mm
336190977 Divator Harness for single cyl 316,7 diam. 140-183 mm
336190976 Divator Harness for single cyl 314, 316 diam. 100-140 mm
30650-01 Divator Harness Pro SS D-rings, velcro straps
97430-02 Divator Harness assy Diving SS buckles
Επιστροφή στην κατηγορία