Ρυθμιστές πλευστότητας
Divator BCW Wing Type Buoyancy Compensator
Μanufacturer: Interspiro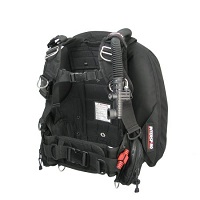 FEATURES
The Divator BC's or harnesses all have quick connection for attaching the cylinders and also holders for the regulator unit, allow the diver to put the equipment on rapidly and easy.
19 kg / 44 lbs lift capacity with standard bladder
Weight release system with 14 kg / 30 lbs capacity
Heavily reinforced construction with 1050 denier nylon
Fully adjustable shoulder and waist panels
Quick cylinder attachment interface
OVERVIEW
The Interspiro DIVATOR BCW is a Buoyancy Compensator
combining high quality heavy duty construction, weight integration,
and rear wing style buoyancy.
The DIVATOR BCWs modular construction allows the transition
between rugged dry suit and thin wet suit diving. Constructed
of heavily reinforced 1050 denier ballistic nylon, it is
compatible with a variety of options and accessories, including
bladders, pockets and custom gear attachment components.
ACCESSORIES
PRODUCT VERSIONS
30047-01 Divator Mesh Weight Pouch 18Lbs, For Divator BCW
30048-01 Divator Mesh Weight Pouch 12Lbs, For Divator BCW
30045-01 Lumbar Pad For Divator BCW
30046-01 Split Sadel Strap For Divator BCW
30049-01 Spare Air Pouch For Divator BCW
30050-01 Six cu/ft Pony Bottle Pouch For Divator BCW
30147-01 Divator BCW, Zip mount adaptor For Divator BCW
99543-51 Rip-Cord Assy with lead fastner
460190923 Divator BCW velcro holder
336100572 Strap separator hook
88174-51 Divator System Weight, 450 g f leg,chest,hip weight pocket
88174-951 Divator System Weight, 450 g f leg,chest,hip weight pocket, non-mag.
88350-51 Divator Weight Holder excl weights, For Divator BCW
30057-51 Divator Weight holder kit inc. 9 weights - for Divator BCW
88350-951 Divator Weight Holder kit no weights, IS MIX non-magnetic
30057-951 Divator Weight holder kit incl weights, non-magnetic
99095-01 Divator BCW Size SM Bouyancy Compensating Wing
99095-02 Divator BCW Size MD Bouyancy Compensating Wing
99095-03 Divator BCW Size LG Bouyancy Compensating Wing
99095-04 Divator BCW Size XL Bouyancy Compensating Wing
99095-11 Divator BCW, SM, with inflat kit Bouyancy Compensating Wing
99095-12 Divator BCW, MD, with inflat kit Bouyancy Compensating Wing
99095-13 Divator BCW, LG, with inflat kit Bouyancy Compensating Wing
99095-14 Divator BCW, XL, with inflat kit Bouyancy Compensating Wing
Επιστροφή στην κατηγορία