ΑΤΟΜΙΚΗ ΠΡΟΣΤΑΣΙΑ
Προστασία αναπνοής - Αναπνευστικές συσκευές
Προστασια Σώματος - Γάντια
Chiba Glove Fire Shark Cuff
Μanufacturer: Chiba
Code: Fire Shark Cuff
Application : Fire-fighter Glove
Finger glove made of Carbon X® for maximum protection even under extreme conditions.
The palm made of leather provides an excellent tactile feel and very good traction and grip even on wet surfaces.
Lining with cut-resistant insulation material made of a Kevlar® -Glassfibre-mixture for highest cut protection (level 5) and at the same time the best insulation.
Additional isolation of the glove with 100% para-aramid felt. The glove is fitted with a waterproof and breathable Eurotex®-membrane. Perfect fit by elastic contraction on the wrist. Highest knuckle protection with a silicone protector, sewn-in elastic band. Strong pre-curved fingers for a perfect fit
All seams are made with Kevlar®-thread.
Features
Sizes :

7-13

Colours :

Black

Length:

about 30 cm

Palm Hand:

Leather

Top Hand:

Carbon X®

Cuff:

Kevlar® knitted cuff

Lining:

Double-face fabric made of 43% Aramid, 37% Polyester, 20% Glass-fibre
Kevlar®-felt 100% Para-Aramid

Membrane:

Eurotex®

Material Composition:

Shell: 69% Leather, 11% Aramid, 9% Polyamid, 9% Polyacryl, 2% Polyester
Lining: 62% Aramid, 25% Polyester, 13% Glasfaser

Washing:

Superficial pollution can be removed by brushing. Min 5 x washable up to 60°C

Storage:

The glove should be stored in a cool, dark and dry environment at a normal room temperature.

Limitations:

For special firefighting (entering fire or fire approach) other, special gloves (e.g according to EN 1486) are required. After mechanical or thermal stress the glove has to be checked for damage. Superficial damage by abrasion, sharp or edged objects, by heat and high pollution affect the protective effect. Protective gloves with such or similar damages have to be sorted out
Test Results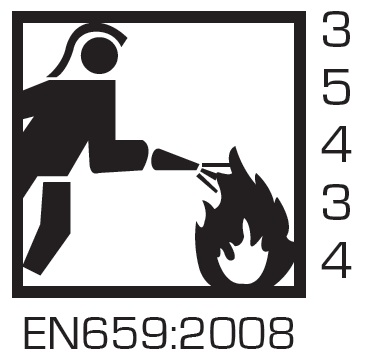 Specifications
Photo Gallery
Επιστροφή στην κατηγορία