Μάσκες ολοκλήρου προσώπου και βαλβίδες αναπνοής (2α στάδια)
Divator Hud Heads Up Display
Μanufacturer: Interspiro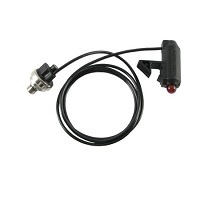 FEATURES
Flashing red light indicates low cylinder pressure. Visible to diver and buddy / surface.
Automatically switched on by cylinder pressure, giving automatic pre-dive verification
Operates down to 100 meters / 328 feet in a range of -40°C to 70°C / -40°F to 158°F for ten years, with no maintenance or battery replacement.
OVERVIEW
DIVATOR HUD is a warning light for low cylinder pressure.DIVATOR HUD improves diving safety by a warning lamp
flashing when the cylinder pressure has dropped below a set warning level. There are two versions available of the DIVATOR
HUD; one with a warning level of 55 bar/ 800 psi and one with a warning level of 80 bar / 1160 psi.
The HUD is mounted on the frame of the DIVATOR FULL FACE MASK (or on a high pressure breathing hose).
The DIVATOR HUD is automatically activated when the cylinder is opened, and requires no further action. The HUD needs no
manual resetting after the warning has been activated. The warning is automatically deactivated at a pressure of minimum
30 bar / 435 psi below the warning level.The HUD is designed to be fail safe against leakage i.e. will
start to warn if leakage should occur. The HUD has a built-in safety valve.
ACCESSORIES
PRODUCT VERSIONS
97193-51 HUD connection kit 300 bar 7/16
89140-01 HP connection 7/16 Adjustable
32103-52 HUD cable cover 730 mm
32103-53 HUD cable cover 780 mm
32103-54 HUD cable cover 1020 mm
89100-01 HUD Heads Up Display 1,75 m 55 bar
89100-02 HUD Heads Up Display 2,95 m 55bar for MKIII
89100-03 HUD Heads Up Display 1,45 m 55 bar
89100-04 HUD Heads Up Display 1,20 m 55 bar for MKII
89100-11 HUD Heads Up Display 1,75 m 80 bar
89100-12 HUD Heads Up Display 2,95m 80 bar for MKIII
89100-13 HUD Heads Up Display 1,45 m 80 bar
89100-14 HUD Heads Up Display 1,20 m 80 bar for MKII
Επιστροφή στην κατηγορία