Ρυθμιστές (1ο στάδιο)
Divator RS4 Regulator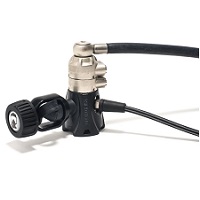 Μanufacturer: Interspiro
FEATURES
Their design ensures that the intermediate pressure leading to the breathing valve is stable and is not affected by pressure variations in the air supply or the depth of the dive. Both regulators have convenient air supply connections for buoyancy compensating jacket, dry suit and DIVATOR Octopus breathing valve.
Safety pressure to ensure no freezing.
Robust shockproof design with rubber cover.
Possibility to have up to four low pressure outputs to suit any specific needs.
Swiveling outputs for improved ergonomics.
Can be used with single cylinder or cylinder pack.
Available with DIN or Yoke cylinder connection.
OVERVIEW
The DIVATOR RS4 regulator is with its extremely rugged design and high performance designed to meet the highest of requirements from the toughest professional users.
The RS4 is a new alternative regulator choice to the well proven MKII and P+ regulators from Interspiro that have been on the market for many years.
ACCESSORIES
PRODUCT VERSIONS

Basic Pressure Gauge
32948-01 Bar gauge
32948-02 Psi gauge

Depth Gauge
32941-51 Scale in meters
32941-52 Scale in feet

Compass
32942-01 For northern hemisphere
32942-02 For southern hemisphere

RS4 REGULATOR - 2-PORT SCUBA (DRY SUIT/BC)
One outlet equipped with over pressure valve. The two HP outlets fitted with blank plugs. Delivered without pressure gauge.
32940-01 DIN cylinder connection
32940-02 Yoke cylinder connection

RS4 REGULATOR - 2-PORT SCUBA + DP1
Delivered with DP1 Surface Supply connection and Basic pressure gauge (some models).
32960-01 Bar pressure gauge, DIN cylinder connection
32960-02 Bar pressure gauge, Yoke cylinder connection
32960-11 Psi pressure gauge, DIN cylinder connection
32960-12 Psi pressure gauge, Yoke cylinder connection
32960-21 DIN cylinder connection, No pressure gauge
32960-22 Yoke cylinder connection, No pressure gauge

RS4 REGULATOR - 4-PORT SCUBA
Delivered with Basic pressure gauge (some models).
32950-01 Bar pressure gauge, DIN cylinder connection
32950-02 Bar pressure gauge, Yoke cylinder connection
32950-11 Psi pressure gauge, DIN cylinder connection
32950-12 Psi pressure gauge, Yoke cylinder connection
32950-21 DIN cylinder connection, No pressure gauge
32950-22 Yoke cylinder connection, No pressure gauge

RS4 REGULATOR - 4-PORT SCUBA + DP1
Delivered with DP1 Surface Supply connection and Basic pressure gauge (some models).
32970-01 Bar pressure gauge, DIN cylinder connection
32970-02 Bar pressure gauge, Yoke cylinder connection
32970-11 Psi pressure gauge, DIN cylinder connection
32970-12 Psi pressure gauge, Yoke cylinder connection
32970-21 DIN cylinder connection, No pressure gauge
32970-22 Yoke cylinder connection, No pressure gauge

RS4 P+ REGULATOR
32980-01 RS4 P+ regulator
Επιστροφή στην κατηγορία